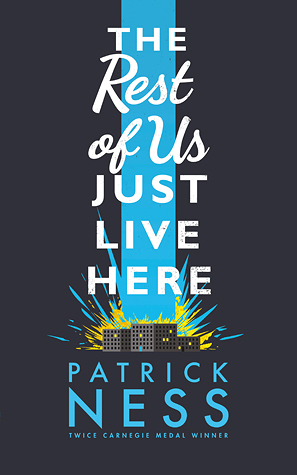 BookBeginnings (a la Rose City Reader)

"On the day we're the last people to see indie kid Finn alive, we're all sprawled together in the Field, talking about love and stomachs."
First Impression: Well, I was already psyched for this book after hearing Patrick Ness describe the premise at Bookcon. Notice how all the heroes and heroines who turn out to be the Chosen One always have cool, interesting names- like Finn or Satchel? Notice how none of them are never named something simple like Michael? Instead of following that thought to create a Chosen One named Michael, he set out to tell the story of one of the bystanders- one of those nameless faces in the crowd that stands by and watches while Buffy and the Scoobies blow up the high school before everyone else can get their prom. Which is a fun premise, but Ness has a tendency of elevating his stories above their already interesting premises anyway. So, in short, I'm just really psyched. So psyched I ordered this from Amazon UK to get it a month earlier than I could in the States.
The Friday 56 is a weekly blog meme hosted by Freda's Voice. Join in every Friday, the rules are simple.
Rules: *Grab a book, any book. *Turn to page 56 or 56% in your eReader.
*Find any sentence (or a few, just don't spoil it) that grab you.
*Post it. *Add your (url) post here in Linky. Add the post url, not your blog url. It's that simple.
"Killed my mom's campaign, too. Malcolm tried to keep the press to a minimum (and this was at the start of the vampire romances, so there were plenty of "mysterious" deaths among the kindie kids to be writing abbout anyway), but enough got out that my mother was forced to withdraw to support her daughter through a "crisis that could hit any family".