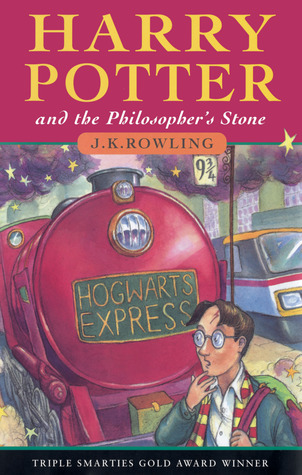 Book Beginnings (a la Rose City Reader)

"Mr and Mrs Durseley, of number four, Privet Drive, were proud to say that they were perfectly normal, thank you very much."
First Impression: Revisiting an old favorite here! I'm actually an American, but someone gave me a British copy as a gift, which is fun to have around! (Plus, I knew about the Philosopher's Stone before Harry Potter existed, so I still dislike that they changed that for the American edition
The Friday 56 is a weekly blog meme hosted by Freda's Voice. Join in every Friday, the rules are simple.
Rules: *Grab a book, any book. *Turn to page 56 or 56% in your eReader.
*Find any sentence (or a few, just don't spoil it) that grab you.
*Post it. *Add your (url) post here in Linky. Add the post url, not your blog url. It's that simple.
 "…a small hole appeared- it grew wider and wider- a second later they were facing an archway large enough for Hagrid, an archway on to a cobbled street which twisted and turned out of sight.
'Welcome,' said Hagrid, 'to Diagon Alley.'