The Friday 56 is a weekly blog meme hosted by Freda's Voice. Join in every Friday, the rules are simple.
Rules: *Grab a book, any book. *Turn to page 56 or 56% in your eReader.
*Find any sentence (or a few, just don't spoil it) that grab you.
*Post it. *Add your (url) post here in Linky. Add the post url, not your blog url. It's that simple.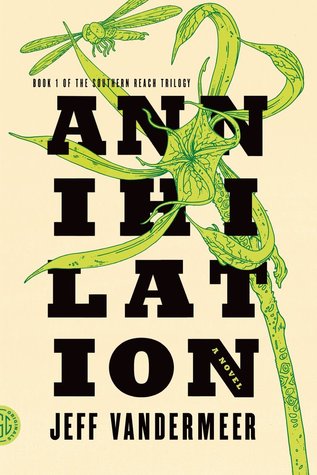 "But how could I not be affected by Area X, if only through him? One night, about a year after he had headed for the border, as I lay alone in bed, I heard someone in the kitchen. Armed with a baseball bat, I left the bedroom and turned on all the lights in the house. I found my husband next to the refrigerator, still dressed in his expedition clothes, drinking milk until it flowed down his neck and chin. Eating leftovers furiously.
I was speechless. I could only stare at him as if he were a mirage."
~Annihilation, Jeff Vandermeer
Book Beginnings (a la Rose City Reader)

"The tower, which was not supposed to be there, plunges into the earth in a place just before the black pine fores begins to give way to swamp and then the reeds and wind-gnarled trees of the marsh-flats."
First Impression: Hmmm… My wife already read this, and said it was very "Lovecraftian," and I'm seeing it already, in this description.